Biography
René Pape's bass showed considerable velvet sheen and elegant dynamic play; purely as singing and star presence, he impressed.

David Shengold, GCNews
Born in Dresden, Pape has been a member of the Berlin State Opera since 1988, but considers New York's Metropolitan Opera his operatic "home away from home." Since his house debut in 1995, he has appeared at the Met in 18 roles and more than 160 performances, including four major debuts: Méphistophélès in Faust, Gurnemanz in Parsifal, Escamillo in Carmen, and the Old Hebrew in Samson et Dalila. But it was at the famous Unter den Linden – home of the Berlin State Opera – where Pape honed most of the great roles of his career.
Music Director Daniel Barenboim was an early supporter, and the Berlin State Opera has played host to Pape's performances as King Marke in Tristan und Isolde; King Heinrich in Lohengrin; Sarastro in Mozart's Die Zauberflöte; Pogner in Die Meistersinger; Rocco in Beethoven's Fidelio; Fasolt in Das Rheingold; Hunding in Die Walküre; and the title role in Don Giovanni. The opera house was also the venue for Pape's appearances as Ramfis in Verdi's Aida; Figaro in Mozart's Le nozze di Figaro; Leporello in Don Giovanni; and Orest in Strauss's Elektra. In 2006 he expanded his repertoire to include the title role in Boris Godunov, which won him the title "Artist of the Year" from the German Critics Association.
Mr. Pape's 2019/20 season highlights include Don Carlo and Parsifal at the Wiener Staatsoper; Don Carlo and Boris Godounov for Opéra national de Paris, Tristan und Isolde at the Staatstheater Wiesbaden, Die Lustigen Weiber von Windsor, Die Zauberflöte, the New Year's Concert Galas singing Beethoven's Symphony No.9 at the Staatsoper Berlin.
He also sings two Lieder recitals with pianist Camillo Radicke: at Graz's Musikverein and at the Wiener Staatsoper, where he will also perform at the Europäische Kulturpreis Pro Europa.
His 2018/19 season included Tristan und Isolde at the Opéra Bastille, Elektra, Die Zauberflöte and Parsifal at the Wiener Staatsoper, Fidelio, Elektra, Die Zauberflöte, Macbeth and Tristan und Isolde at the Staatsoper Berlin, a new production of T.H.A.M.O.S. in Salzburg and Parsifal at the Bavarian State Opera.
In recent seasons, Pape has also starred in the title role of Mussorgsky's Boris Godunov, and has increased his recital activities around the world. Anthony Tommasini of the New York Times praised Pape's role debut as Boris at the Metropolitan Opera: "With his towering physique and unforced charisma, Mr. Pape looks regal and imposing. Yet with his vacant stare, the haggard intensity in his face, his stringy long hair and his hulking gait, he is already bent over with guilt and doubt. Mr. Pape has vocal charisma as well, and his dark, penetrating voice is ideal for the role. Not knowing Russian, I cannot vouch for the idiomatic quality of his singing. But his enunciation was crisp and natural. And in every language, Mr. Pape makes words matter."
Of his Wigmore Hall recital in 2018, Peter Reed from Classical source stated "Pape has the gift of reeling you in with his focus and stillness, and gestures such as one warning finger (in the Mozart) or both arms expansively raised in just one of his Sibelius set were more or less it in terms of dramatic emphasis. It was all down to the authority and intensity of his singing that leaves you with the impression that his voice is inexhaustible, with colour, substance, imagination and nuance to spare from pitch-black to a quietness of exceptional delicacy."
Early in 2011, Pape gave his recital debut in Los Angeles, of which Mark Swed, chief critic of the Los Angeles Times wrote: "Vocally, Pape is a complete singer. His lows vibrate with a satisfying subterranean buzz, his highs have a baritonal smoothness. He doesn't fuss. Wolf's three Michelangelo Songs were the closest he came to soul-searching opera, these examples of raw, inconsolable inner anguish. Pape ended the first half with Schubert's 'Prometheus,' a Goethe text in which the distressed poet…rails against Zeus. I would not have liked to have been that god facing Pape."
That same year, Pape released the album Wagner, a collection of favorite arias featuring the Berlin Staatskapelle conducted by Daniel Barenboim on the Deutsche Grammophon label. When it was released in Europe, the reviewer for the U.K.'s Guardian exclaimed: "He is unquestionably magnificent. This is very lyrical Wagner singing, sensual, even sexual in tone, noble in utterance, and shaped as much through the line as off the words."
2009 was a landmark season in Pape's career. He gave his first solo recital to a sold-out Carnegie Hall audience, having chosen a program of serious German lieder for the occasion; the reviews were ecstatic. He also participated in the Met's final presentation of Otto Schenk's popular production of Wagner's Ring, first staged at the Met more than 20 years ago.
Pape's first CD of solo arias, Gods, Kings & Demons, was released in 2008 on Deutsche Grammophon with his hometown orchestra, the Staatskapelle Dresden conducted by Sebastian Weigle. The disc won a coveted "ECHO" award, the German equivalent of a Grammy.
Pape made his first DG recording when a childhood friend, Dresden composer Torsten Rasch, hand-picked him for Mein Herz brennt, a song-cycle based on works by the industrial rock group Rammstein.In addition, Pape has participated in a number of complete opera recordings, many available on DVD – including Die Zauberflöte with Claudio Abbado for DG. He sang his signature role – King Marke in Wagner's Tristan und Isolde – on an EMI Classics CD starring Plácido Domingo. Pape joined tenor Rolando Villazón for a new recording of Verdi's Requiem, released by EMI Classics in October 2009. In fall 2010, the Mariinsky label released Valery Gergiev's first Wagner recording, Parsifal, which featured Pape singing the role of Gurnemanz.
Pape made his debut in Bayreuth as Fasolt in Das Rheingold in 1994; at London's Royal Opera House, Covent Garden as King Heinrich in Lohengrin in 1997; at the Opéra National de Paris as King Marke in Tristan in 1998; and at the Lyric Opera of Chicago as Pogner in Die Meistersinger in 1999. He has sung at France's Orange Festival; Glyndebourne; Carnegie Hall; Avery Fisher Hall; and with the touring Metropolitan Opera in Japan. He was one of a quartet of singers chosen by James Levine to participate in a unique "Schubertiade" at Carnegie Hall in 2004.
Pape received his musical education in Dresden as a member of the world-famous Dresden Kreuzchor, and completed his studies at the Dresden Conservatory. He first won international recognition when Sir Georg Solti invited him to sing Sarastro in a new production of Die Zauberflöte at the 1995 Salzburg Festival. Musical America named him its 2001 Singer of the Year, and in 2006 he was one of five leading figures in the world of opera honored by the Opera News Awards.
René has been a long-time collector of rubber ducks, and in 2017 he released a limited-edition "PapeDuck" in his likeness, available for purchase via renepape.com.
Repertoire
Mussorgsky
Boris Godunov
Boris Godunov
Wagner
Das Rheingold
Wotan
Wagner
Die Meistersinger von Nürnberg
Veit Pogner
Mozart
Die Zauberflöte
Sarastro
Verdi
Don Carlo
Philipp II
Mozart
Don Giovanni
Don Giovanni
Gounod
Faust
Méphistophélès
Wagner
Lohengrin
König Heinrich der Vogler
Boito
Mefistofele
Mefistofele
Wagner
Parsifal
Gurnemanz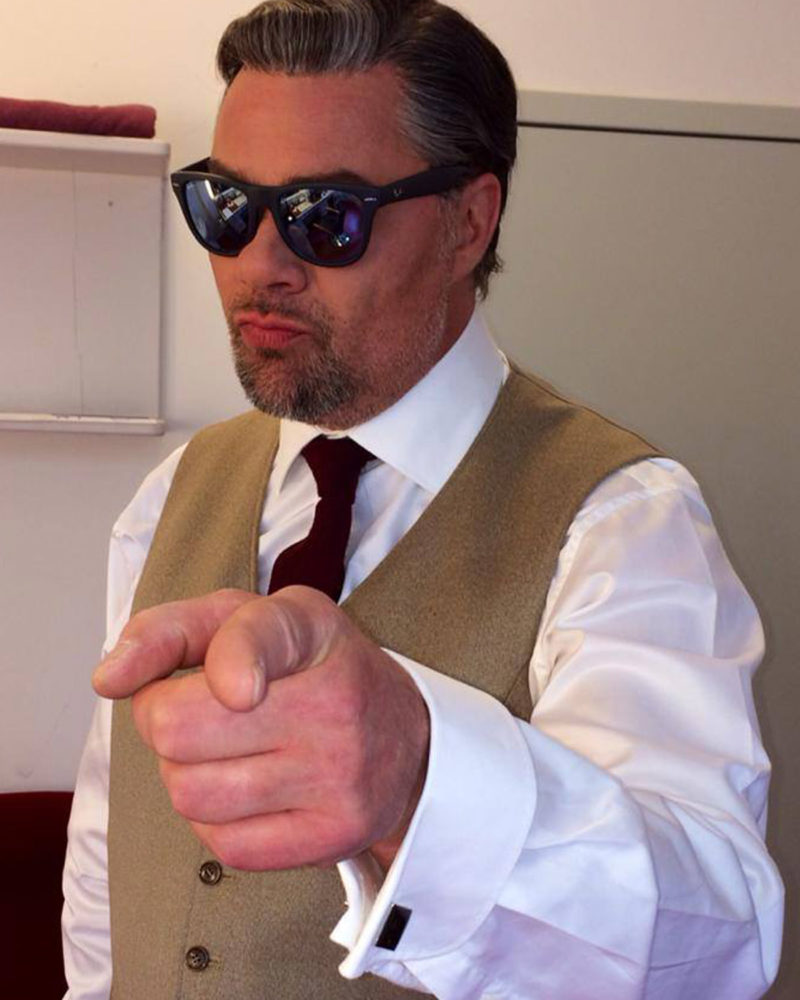 Wagner
Tannhäuser
Hermann
Wagner
Tristan und Isolde
König Marke